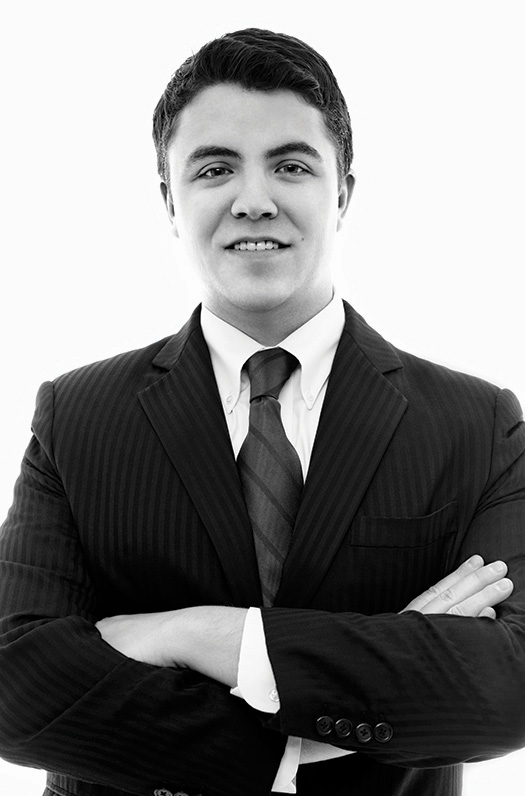 contact information
P (212) 705 4868
aungberg@fkks.com

Download vCard
areas of expertise
Looking for additional information?
Find out what else we do at Frankfurt Kurnit. And how we can help.
Andrew J. Ungberg is an associate in the Litigation, Entertainment, and Interactive Entertainment practice groups at Frankfurt Kurnit. His practice focuses on intellectual property and media law.
Mr. Ungberg represents individual and corporate clients in the entertainment, video game, print media, television, film, and toy industries. He counsels on complex commercial disputes involving breach of contract, copyright, trademark, defamation, and right of publicity. Among other matters, Mr. Ungberg has defended digital news and content companies from copyright claims stemming from the use of photos in social media posts, news articles and viral videos, and defended an award-winning documentary film producer against publicity and copyright infringement claims. He was also a member of the trial team representing Hasbro, Inc. in a dispute over the motion picture rights to Dungeons & Dragons.
A life-long gamer, Mr. Ungberg has a particular focus on representing clients in the video game industry, where he has worked with companies ranging from the smallest start-ups to the largest developers and publishers. In addition to representing these clients in litigation, his work includes advising on the implementation of virtual currency systems in the United States and abroad, and counseling clients in the drafting of end-user license agreements, terms of service and privacy policies.
Beyond his litigation practice, Mr. Ungberg focuses on assessing all forms of media and entertainment for legal risk. His work includes reviewing scripts, screenplays, documentaries and unscripted television productions, film, games, and web content to counsel clients on strategies for reducing or eliminating the risk of legal claims. In addition to pre-release vetting, Mr. Ungberg advises clients seeking errors and omission insurance coverage for entertainment projects, and negotiates and drafts licenses, non-disclosure agreements and all forms of releases.
Prior to joining Frankfurt Kurnit, Mr. Ungberg worked as a litigation associate at Cleary Gottlieb Steen & Hamilton LLP, where his practice focused on commercial litigation, securities law, and government enforcement matters. Mr. Ungberg is a member of the Communications & Media Law Committee of the New York City Bar , the Media Law Resource Center and the Video Game Bar Association. Mr. Ungberg is admitted to practice in New York State and the Southern and Eastern Districts of New York.
education
Universty of Connecticut (BS, magna cum laude, 2007)
International Business Management
Harvard Law School (JD, 2010)
Editor-in-Chief of the Harvard Journal of Law & Technology
Upcoming Speaking Engagements
Victoria Cook and Andrew Ungberg at DOC NYC
Victoria Cook and Andrew Ungberg present "Withstanding the Assault on Free Speech," a legal panel discussing how documentary filmmakers can cover protests, police actions and other highly-charged situations, during the DOC NYC PRO: DOC LAW SCHOOL program. More information here.
November 15 2018
Past Speaking Engagements
Newspaper Association Managers Legislative Conference
Andrew Ungberg spoke on a panel discussing changing trends in copyright litigation, the rise of copyright "trolls" and what small media organizations can do to both reduce the chances that they are targeted with one of these strike suits, and what they can do to defend if they are sued at the Newspaper Association Managers Legislative Conference in Washington DC.
December 4 2017
IP Rights in the Video Gaming Industry: Protecting and Defending Your Game's IP
Andrew Ungberg speaks on a panel on 'IP Rights in the Gaming Industry' for Strafford Webinars. For more information or to register, please click here.
August 9 2017
Understanding Contracts + Fair Use
Andrew Ungberg leads a workshop to help filmmakers understand and navigate common legal issues they might face over the life cycle of film production, with a focus on contracts and fair use for the Video Consortium.
May 6 2017
news & press
How Courts View Copyright Protection For Video Games
Law360 publishes Sean Kane and Andrew Ungberg's article, "How Courts View Copyright Protection For Video Games". Read more.
Federal Appeals Court Weakens DMCA Safe Harbor Protection for Moderated Online Content
If you're an online publisher or other internet service provider ("ISP") that relies on moderators to police or curate user-generated comments or other content, your risk of liability for copyright infringement just increased. Read more.
No Harm, No Foul: Court Dismisses Biometric Data Privacy Class Action Against NBA 2K Games
Biometric data — from, e.g., retina, face and fingerprint scans — plays a big role in the current wave of new technology services. For example, biometrics provide security features for financial and healthcare products. But companies using or thinking of using biometric data have to comply with myriad privacy and data security laws and regulations, or face potential enforcement action and litigation. Read more.
Forfeiture and Restitution: Ships Passing in the Night?
The New York Law Journal published Brian Maas, Caren Decter and Andrew Ungberg's essay about the disconnect between the government's forfeiture powers and a victim's right to restitution. (Article behind paywall) View Article
Supreme Court Rules on Availability of Attorneys' Fees in Copyright Cases
In the US, attorneys' fees generally are not available to the winning party unless authorized by statute or the parties have agreed to permit a fee award. Copyright law is one area where fee shifting is permitted, and courts have discretion to award a "reasonable" fee to the winning party. How do courts decide? Read more.
When the Supreme Court Closes a Door, It Opens a Window
Craig B. Whitney and Andrew J. Ungberg's article, "When the Supreme Court Closes a Door, It Opens a Window: Over One Year Later, Aereo May Help Put the Cloud Back on the Court's Horizon" is featured in Landslide, a publication of the ABA Section of Intellectual Property Law. Read more.
Legal Battle Over Dungeons & Dragons Film Rights Ends in Settlement
A settlement has been reached in the "Dungeons and Dragons" film dispute between Hasbro, Warner Brothers, and Sweetpea Entertainment. Frankfurt Kurnit's Maura Wogan, Jeremy Goldman and Andrew Ungberg respresented Hasbro and Wizards of the Coast. You can find Variety coverage here, Hollywood Reporter coverage here, Guardian coverage here, Deadline coverage here, and Courthouse News coverage here.
On Further Review: Former NFL Players' Right of Publicity Suit Advances
There was a big development in the closely followed Davis v. Electronic Arts, Inc. case - a case focusing on the alleged unauthorized use of player images and likenesses in the popular Madden NFL video game series. Read more.
After 'Dungeons & Dragons' Trial, Parties Fight Over Meaning of Movie Sequel
The Hollywood Reporter continues its coverage of the Hasbro Inc. v. Sweetpea Entertainment trial – the battle over film rights to the Dungeons & Dragons property. Maura Wogan, Jeremy Goldman and Andrew Ungberg represent Hasbro. View Article