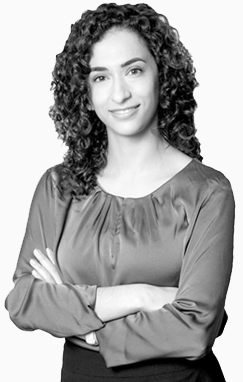 contact information
P (212) 705 4869
F (347) 438 2126
dmohaghegh@fkks.com

Download vCard
areas of expertise
Looking for additional information?
Find out what else we do at Frankfurt Kurnit. And how we can help.
Ms. Mohaghegh counsels clients on all aspects of trademark law, including clearance, selection, prosecution, maintenance and enforcement.
She also assists clients in drafting and negotiating trademark settlement, licensing and coexistence agreements. She represents clients in a variety of industries, including health and wellness, media and entertainment, advertising and marketing, sports, publishing and fashion.
Prior to joining Frankfurt Kurnit, Ms. Mohaghegh was an associate at Willkie, Farr & Gallagher LLP, where she focused on trademark, copyright, trade secret and other intellectual property issues relating to mergers, acquisitions, financings and investments. She has also advised on issues relating to domain names, including disputes before the National Arbitration Forum.
Ms. Mohaghegh is a member of the New York State Bar Association and the New York Intellectual Property Law Association (NYIPLA) and serves on the NYIPLA's Young Lawyers Committee and Trademark Law and Practice Committee. She is admitted to practice in New York.
education
University of Pennsylvania (BA, summa cum laude, 2009)
Recipient of the Robert A. Fox Leadership Award
New York University School of Law (JD, 2014)
Associate Editor of the Journal of Intellectual Property and Entertainment Law
Upcoming Speaking Engagements
Past Speaking Engagements
NYU Law Women
Dorna Mohaghegh speaks on a panel for NYU Law Women on "A Day in the Life of a Lawyer."
September 22 2016
news & press
Supreme Court Strikes Down Lanham Act Prohibition on Registration of Disparaging Trademarks
On June 19, 2017, the Supreme Court unanimously ruled in Matal v. Tam that Section 2(a) of the Lanham Act, which prohibits the federal registration of disparaging trademarks, is unconstitutional because it violates "a bedrock First Amendment principle: Speech may not be banned on the ground that it expresses ideas that offend." Read more.
#Covfefe: Trending - But Can You Register It As a Trademark?
President Trump recently tweeted, without context, "Despite the constant negative press covfefe". Within minutes, the Internet was ablaze with commentary, speculation, and humor regarding the newly invented term. Read more.
Get Ready for New Trademark Trial and Appeal Board Rules
The Trademark Trial and Appeal Board (the "Board") has announced a number of changes to the Trademark Rules of Practice, to take effect on January 14, 2017. Read more.