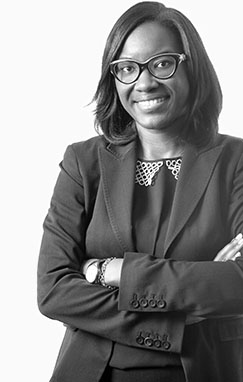 contact information
P (212) 705 4817
F (347) 438 2095
lbarajas@fkks.com

Download vCard
areas of expertise
Looking for additional information?
Find out what else we do at Frankfurt Kurnit. And how we can help.
Lakendra S. Barajas is an associate in the Litigation group.
Prior to joining Frankfurt Kurnit, Ms. Barajas was an associate at Wilkie Farr and Gallagher LLP, where she focused on patent and copyright disputes.
Ms. Barajas is a member of the New York Intellectual Property Association. She is admitted to practice in New York.
education
Vanderbilt University (BA, cum laude, 2011)
Harvard Law SChool (JD, 2015)
Staff Editor - Harvard Environmental Law Review
Upcoming Speaking Engagements
Past Speaking Engagements
news & press
State of Washington v. Donald J. Trump, No. 17-35105 (9th Cir.)
We filed a friend-of-the-court brief on behalf of our client, the Anti-Defamation League, in support of Washington and Minnesota's challenge to President Trump's Executive Order titled "Protecting the Nation from Foreign Terrorist Entry into the United States." You can read our brief here.