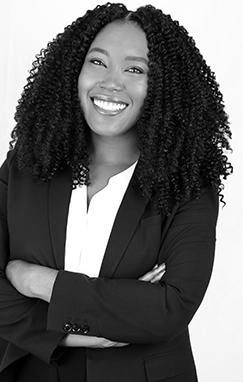 contact information
P (310) 579 9621
F (424) 320 2835
atulloch@fkks.com

Download vCard
areas of expertise
Looking for additional information?
Find out what else we do at Frankfurt Kurnit. And how we can help.
Alycia S. Tulloch is an associate in the Litigation Group, focusing on entertainment and intellectual property disputes.
Ms. Tulloch represents corporate and individual clients in a wide range of industries. She has extensive experience in complex civil litigation, and has trained at city, state, and national levels on trial skills and strategic case development. Ms. Tulloch also has extensive experience in the entertainment industry, most recently serving as the Director of the Women of Color Initiative Project where she organized outreach events targeting women of color by working directly with individuals and organizations in entertainment, media, and technology.
Prior to joining Frankfurt Kurnit, Ms. Tulloch was a litigator with a large law firm, where she drafted grand jury and intellectual property litigation strategy memoranda, conducted interviews, and led research to help resolve complex commercial litigation and arbitration matters including breach of contract, tortious interference, breach of fiduciary duty, fraud, negligent representation, and trade secret theft. Additionally, she has written or contributed to several articles including Insider trading and COVID-19, published in the Daily Journal in 2020.
Ms. Tulloch is passionate about providing pro bono representation to indigent clients and has represented clients on immigration, criminal, and housing law matters. Ms. Tulloch completed a Litigation Law Fellowship with the Eviction Defense Collaborative, the only legal services organization in San Francisco solely focused on eviction protection and the lead organization of the Tenant Right to Counsel program in the Bay Area.
She is admitted to practice in California, the United States District Court for the Northern District of California, and the United States District Court for the Central District of California.
education
University of California, Berkeley School of Law (J.D.)
-Editor-in-Chief, Berkeley Journal of Criminal Law
-Senior Articles Editor, Berkeley Journal of African-American Law and Policy
-Student Attorney, Policy Advocacy Clinic
-Student Attorney, Education Defense and Justice for Youth Clinic (EBCLC)
Georgia State University (B.A., Psychology, summa cum laude)
Upcoming Speaking Engagements
Past Speaking Engagements
news & press
Alycia S. Tulloch in the EBCLC Annual Report for 2021
Alycia S. Tulloch is quoted in the East Bay Community Law Center's 2021 Annual Report. The EBCLC Report quotes Alycia on her background and work with the Education Defense and Justice for Youth clinic. View Article