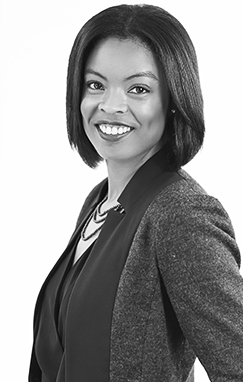 contact information
P (212) 705 4890
F (347) 826 1892
ccampbell@fkks.com

Download vCard
areas of expertise
Looking for additional information?
Find out what else we do at Frankfurt Kurnit. And how we can help.
Christina Campbell is an associate in the Litigation Group, focusing on intellectual property matters. She has experience with individual and corporate clients in the media, entertainment, art, and fashion industries.
Prior to joining Frankfurt Kurnit, Ms. Campbell served as a 1L scholar and a summer associate at Skadden, Arps, Slate, Meagher & Flom LLP where she focused on intellectual property matters.
During law school, Ms. Campbell gained experience through internships in publishing, fashion, and the arts, focusing on copyright, trademark, brand enforcement, and anti-counterfeiting matters.
She is admitted to practice in New York.
education
Columbia University (BA, 2014)
Columbia Law School (JD, Harlan Fiske Scholar, 2019)
-Member of the Columbia Science and Technology Law Review
Upcoming Speaking Engagements
Past Speaking Engagements
What's Happening in Copyright Law? Part II
Does your business depend on copyright ownership and licensing, or rise and fall with changes in copyright law? Do you use content created by others or worry that your content is going to be stolen? Are you susceptible to copyright claims from third parties or trolls? If so, please join us remotely for part two of the Frankfurt Kurnit CLE (CA & NY credit) update on current hot topics in copyright law. (Note: part one is not a prerequisite for part two.) Read more.
August 13 2020
More Than Just Hand Sanitizer: Employment Law and the Return to Work (Part 2)
In Part 2 of our "More Than Just Hand Sanitizer" series we'll help you learn how to implement the policy and procedural changes, as well as the physical changes, necessary for a return to the workplace. Read more.
May 20 2020
More Than Just Hand Sanitizer: Employment Law and the Return to Work (Part I)
Rehiring considerations. How to test for COVID-19. How to schedule work. Which accommodations to grant. How to safeguard a gigabyte of new confidential information. These are just some of the difficult issues employers will face in the gradual return to work. In this one-hour webinar we'll help you identify the policy and procedural changes you need to make to comply with fast-changing new rules while reducing health and financial risk. Read more.
May 13 2020
news & press
Thirty-five Frankfurt Kurnit Attorneys Named to Super Lawyers Metro List for 2020
The list includes: Christopher R. Chase, Victoria Cook, Lisa E. Davis, Catherine M.C. Farrelly, Michael P. Frankfurt, Hayden Goldblatt, Jeffrey A. Greenbaum, John B. Harris, Richard B. Heller, Richard Hofstetter, Nicole Hyland, Candice Kersh, Rick Kurnit, Brian E. Maas, Richard Maltz, Jeffrey Marks, Kimberly Maynard, Mark Merriman, Ronald C. Minkoff, Brian G. Murphy, Edward H. Rosenthal, Terri Seligman, Thomas D. Selz, Barbara E. Shiers, Wendy Stryker, Linda Wank, S. Jean Ward, Craig Whitney and Maura Wogan. Marcie Cleary, Christina Jenkins, Sasha Levites, Tyler Maulsby, Adam Osterweil and Rachel Santori are listed as "Rising Stars." Read more.