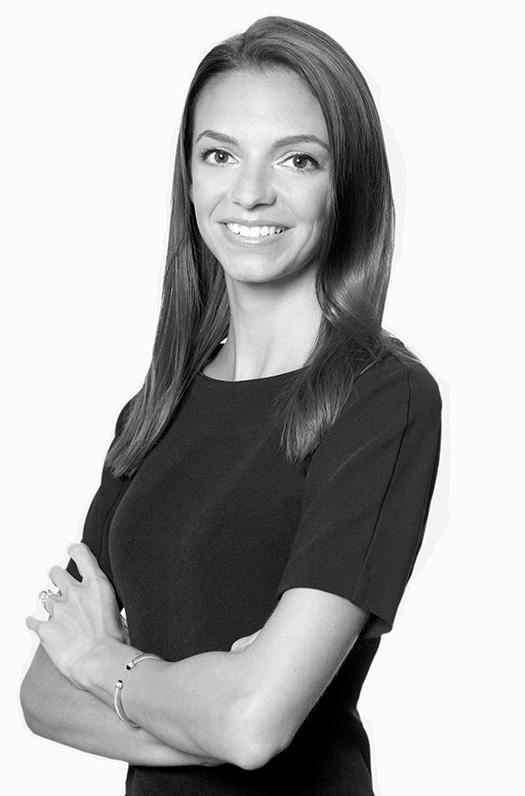 contact information
P (212) 705 4829
F (347) 438 2169
dmaggiacomo@fkks.com

Download vCard
areas of expertise
Looking for additional information?
Find out what else we do at Frankfurt Kurnit. And how we can help.
Danielle E. Maggiacomo, formerly Danielle E. Gorman, is an associate in the Trademark & Brand Management and Intellectual Property Groups. She counsels clients in a variety of industries on all aspects of establishing, building, and protecting their brands.
Ms. Maggiacomo is experienced in domestic and international trademark law and brand management. She assists emerging and established companies with the creation, growth, and maintenance of global trademark portfolios, including domestic and foreign application filing strategies, enforcement initiatives, and acquisition, divestiture and realignment of rights.
Ms. Maggiacomo regularly provides clients with strategic advice about the availability and selection of new trademarks. She also represents clients in defending those rights through litigation before the federal courts, the Trademark Trial and Appeal Board, and in foreign tribunals. Ms. Maggiacomo develops and implements other enforcement strategies including Uniform Domain Name Dispute Resolution Policy (UDRP) proceedings, cease and desist letters, and Internet takedowns.
Ms. Maggiacomo also has expertise in drafting and negotiating trademark settlement, coexistence, and license agreements and providing intellectual property due diligence assessments. She has represented clients in a variety of industries, including cosmetics, fashion, jewelry, finance, publishing, food and beverage, and consumer and household products.
Prior to joining Frankfurt Kurnit, Ms. Maggiacomo was an associate at Locke Lord LLP in the Trademark, Copyright, and Advertising Group. During law school, she served as a fellow in the United States District Court for the District of New Jersey.
Ms. Maggiacomo serves as an Executive Committee member of the New York State Bar Association's Intellectual Property Section, a Leadership Board member of the Lehigh Lawyers Association, an Executive Committee Member of the Benjamin N. Cardozo School of Law Alumni Association, a Co-Chair of the Benjamin N. Cardozo School of Law Fashion Law Practice Area Group, and as a member of INTA's Unreal Campaign committee. She is admitted to practice in New York, New Jersey, in the United States Court of Appeals for the Second Circuit, and in the United States District Courts for the Southern and Eastern Districts of New York.
awards & recognition
New York Metro Super Lawyers "Rising Star" in Intellectual Property (2016-2018)
education
Lehigh University (BA)
Benjamin N. Cardozo School of Law (JD)
Acquisitions Editor of the Cardozo Arts & Entertainment Law Journal
Upcoming Speaking Engagements
Past Speaking Engagements
news & press
Super Lawyers - New York Metro Top Women for 2020
The New York Times distributed the Super Lawyers list of the New York Metro Area's Top Women for 2020. Fourteen Frankfurt Kurnit attorneys made the list: Wendy Stryker (Employment Law), Victoria Cook, Lisa Davis & Jean Ward (Entertainment Law), Barbara Shiers (Estate Planning & Probate), Catherine Farrelly (Intellectual Property), Amelia Brankov, Kim Maynard & Maura Wogan (Intellectual Property Litigation) Candice Kersh & Terri Seligman (Media and Advertising). Sasha Levites (Entertainment Law) Danielle Maggiacomo & Rachel Santori (Intellectual Property Law) are listed as "Rising Stars."
Thirty-three Frankfurt Kurnit Attorneys Named to Super Lawyers Metro List for 2019
Super Lawyers magazine lists thirty-three Frankfurt Kurnit attorneys in its 2019 NY-area edition. Read more.
Thirty-six Frankfurt Kurnit Attorneys Named in Super Lawyers Magazine for 2018
Super Lawyers magazine lists thirty-six Frankfurt Kurnit attorneys in its 2018 edition. Read more.
Danielle Maggiacomo on NJ Chapter of SCORE
Danielle E. Maggiacomo talks trademarks on the Ocean County, NJ chapter of SCORE - a national nonprofit that provides advice to small businesses and entrepreneurs. Listen here.
Impending WHOIS Data Blackout Is Likely to Impede IP Enforcement
On May 25, 2018, the European Union's new General Data Protection Regulation (GDPR) will take effect. Read more.
Beware of Trademark Solicitation Scams
Trademark solicitation scams are on the rise. If you receive correspondence about your trademarks from someone other than your trademark attorneys — correspondence that looks like an invoice or an offer for trademark services — it may not be legitimate. Here's a summary of what the scams look like and what you should do about them. Read more.