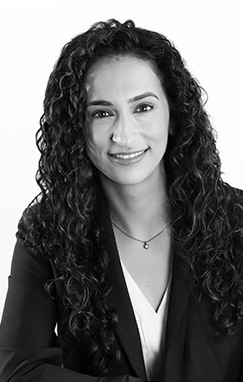 contact information
P (212) 705 4869
F (347) 438 2126
dmohaghegh@fkks.com

Download vCard
areas of expertise
Looking for additional information?
Find out what else we do at Frankfurt Kurnit. And how we can help.
Dorna Mohaghegh counsels clients across a wide variety of industries on all aspects of trademark law and brand management, from selection and clearance to enforcement and licensing. She is recognized by Best Lawyers in America in the 2021 edition of "Ones to Watch" for Intellectual Property law.
Ms. Mohaghegh helps her clients build their brands and develop enforcement plans tailored to their goals. She is experienced in working with established brands as well as start-ups, and strategically guides clients through the development and management of their foreign and domestic trademark portfolios. She protects her clients rights in front of the Trademark Trial and Appeal Board as well as through Uniform Domain Name Dispute Resolution Policy (UDRP) proceedings, cease and desist letters, and Internet takedowns.
She also assists her clients by drafting and negotiating trademark settlement, licensing and coexistence agreements, advising on proper trademark use and notice, and providing guidance on brand and trademark expansion strategy. She represents clients in a variety of industries, including health and wellness, media and entertainment, advertising and marketing, finance, sports, restaurants and food, publishing and fashion.
Prior to joining Frankfurt Kurnit, Ms. Mohaghegh was an associate at Willkie, Farr & Gallagher LLP, where she focused on trademark, copyright, trade secret and other intellectual property issues related to due diligence assessments in connection with mergers, acquisitions, financings and investments.
Ms. Mohaghegh is a member of the International Trademark Association (INTA), the New York State Bar Association and the New York Intellectual Property Law Association (NYIPLA). She is the co-leader of the Best Practices for Describing and Representing Non-Traditional Marks Taskforce in the U.S. Subcommittee of the Non-Traditional Marks Committee of INTA. Additionally, she serves on the NYIPLA's Young Lawyers Committee and Trademark Law and Practice Committee. She is admitted to practice in New York.
awards & recognition
Best Lawyers in America "Ones to Watch" 2021 (Intellectual Property)
education
University of Pennsylvania (BA, summa cum laude, 2009)
Recipient of the Robert A. Fox Leadership Award
New York University School of Law (JD, 2014)
Associate Editor of the Journal of Intellectual Property and Entertainment Law
Upcoming Speaking Engagements
Past Speaking Engagements
news & press
The Best Lawyers in America 2021
We are pleased to report that Best Lawyers — the oldest and one of the most respected peer reviewed lawyer recommendation services — continues to recommend Frankfurt Kurnit. Read more.
Applications of Blockchain Technology to Trademark Protection, Enforcement, and Practice
Dorna Mohaghegh's article "Applications of Blockchain Technology to Trademark Protection, Enforcement, and Practice" was posted on the INTA Bulletin. Dorna co-wrote the piece with other members of the International Trademark Association's Emerging Issues-New Emerging Issues Subcommittee. View Article
Dorna Mohaghegh on POPLAW Podcast
Dorna Mohaghegh is a guest on the POPLAW Podcast speaking about the trademark application process, trademark infringement, and two recent trademark cases involving Dr. Dre and DJ Khaled.
Boston Restaurant Could Not Enforce Geographically Descriptive Trademark Against Celebrity Chef
In a closely watched trademark battle with implications for food, beverage and other industries, a federal court has found for celebrity chef and television personality Christopher Kimball and his new media company, CHRISTOPHER KIMBALL'S MILK STREET. An allegedly competing business, MILK STREET CAFÉ, had sued CHRISTOPHER KIMBALL'S MILK STREET, arguing that Kimball's use of CHRISTOPHER KIMBALL'S MILK STREET was likely to cause confusion with MILK STREET CAFÉ. Read more.
Twitter Has Great Ideas For Movies—Will Hollywood Listen?
Wired Magazine quoted Dorna Mohaghegh about social media and the film industry. View Article
Supreme Court Strikes Down Lanham Act Prohibition on Registration of Disparaging Trademarks
On June 19, 2017, the Supreme Court unanimously ruled in Matal v. Tam that Section 2(a) of the Lanham Act, which prohibits the federal registration of disparaging trademarks, is unconstitutional because it violates "a bedrock First Amendment principle: Speech may not be banned on the ground that it expresses ideas that offend." Read more.
#Covfefe: Trending - But Can You Register It As a Trademark?
President Trump recently tweeted, without context, "Despite the constant negative press covfefe". Within minutes, the Internet was ablaze with commentary, speculation, and humor regarding the newly invented term. Read more.
Leveraging Trademark Law to Commercialize a Meme
Dorna Mohaghegh wrote an article for Law 360 about commercializing memes. View Article
Get Ready for New Trademark Trial and Appeal Board Rules
The Trademark Trial and Appeal Board (the "Board") has announced a number of changes to the Trademark Rules of Practice, to take effect on January 14, 2017. Read more.