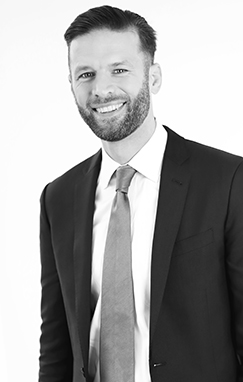 contact information
P (212) 705 4821
F (315) 883 8407
esiebers@fkks.com

Download vCard
areas of expertise
Looking for additional information?
Find out what else we do at Frankfurt Kurnit. And how we can help.
Elliott Siebers is an associate in the Privacy & Data Security Group. He advises clients on regulatory, operational, and transactional matters arising from privacy and data security matters, including incident response and litigation.
Prior to joining Frankfurt Kurnit, Elliott was a Deputy Attorney General with the New Jersey Office of the Attorney General, Division of Law for over five and a half years. He served as Section Chief of the Data Privacy and Cybersecurity Section -- the first to hold that position -- overseeing a team that handled multi-state and New Jersey-initiated investigations into violations of the New Jersey Consumer Fraud Act, Identity Theft Prevention Act, HIPAA/HITECH, and COPPA, among other laws.
Before being promoted to Section Chief, he investigated and prosecuted New Jersey False Claims Act matters, in addition to data privacy and cybersecurity matters, in the Division of Law's Government and Healthcare Fraud Section. He was counsel and co-counsel in complex investigations and litigations relating to government contractor fraud, health care fraud, and data privacy/cybersecurity consumer fraud matters. Prior to joining the Division of Law, he served for one year as a Volunteer Assistant Attorney General with the New York Office of the Attorney General, Bureau of Internet Technology.
Elliott is also a Certified International Privacy Professional/United States (CIPP/US) as well as that of the European Union (CIPP/E). He has addressed professional audiences on state attorney general and regulatory perspective on data privacy issues.
He is admitted to practice in New York and New Jersey.
education
Brooklyn Law School (JD)
University of Wisconsin-Madison (BS)
Upcoming Speaking Engagements
Past Speaking Engagements
More Than Just Hand Sanitizer: Employment Law and the Return to Work (Part I)
Rehiring considerations. How to test for COVID-19. How to schedule work. Which accommodations to grant. How to safeguard a gigabyte of new confidential information. These are just some of the difficult issues employers will face in the gradual return to work. In this one-hour webinar we'll help you identify the policy and procedural changes you need to make to comply with fast-changing new rules while reducing health and financial risk. Read more.
May 13 2020
Zoom as a Case Study – Privacy and Security in the Digital World During Social Distancing
Join Frankfurt Kurnit's Privacy & Data Security Group for a live virtual roundtable webinar on Webex to explore the rapidly evolving privacy and data security questions surrounding the meteoric rise of Zoom, the most popular video conferencing application in the COVID-19 era of social distancing. Read more.
April 14 2020
MediaPost's Forecast 2020
Elliott Siebers speaks at MediaPost's "Forecast 2020 and Beyond: Media+Data+Privacy" program in New York.
January 29 2020
news & press
Privacy's Perfect Storm
MediaPost mentions Elliott Siebers' and his take on phone app selections for geo-targeting in an overview of their Forecast 2020 program. View Article