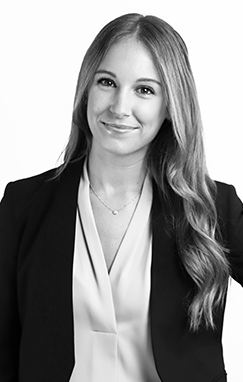 contact information
P (212) 705-4820
F (315) 930 3520
jeisenpress@fkks.com

Download vCard
areas of expertise
Looking for additional information?
Find out what else we do at Frankfurt Kurnit. And how we can help.
Jordyn Eisenpress is an associate in the Advertising, Marketing & Public Relations Group.
Prior to joining Frankfurt Kurnit, Ms. Eisenpress served as a summer associate with the firm where she focused on both advertising and litigation matters.
Ms. Eisenpress has experience working on all sides of disputes before the National Advertising Division (NAD). She has worked on behalf of challengers, advertisers, and the NAD itself, in both competitive advertising disputes and public monitoring cases. During law school, Ms. Eisenpress spent time with the NAD reviewing claim substantiation, analyzing consumer perception evidence, and drafting opinions. Her experience also includes the representation of clients pro bono in copyright disputes and mediation.
Prior to pursuing a legal career, Ms. Eisenpress worked in the public relations industry, where she focused on digital and social media strategy.
Ms. Eisenpress is a member of the American Intellectual Property Law Association. She is admitted to practice in New York.

education
University of Wisconsin-Madison (B.A. with comprehensive honors)
Columbia Law School (J.D.)
- Harlan Fiske Stone Scholar
- Carroll G. Harper prize recipient
- Executive Submissions Editor, Columbia Journal of Law & the Arts
- Regional Champion, Best Appellant Brief & National Quarterfinalist, American Intellectual Property Law Association Moot Court Competition
Upcoming Speaking Engagements
Past Speaking Engagements
news & press
Video Games With Advanced Communications Services Must Now Be Accessible to Players With Disabilities
An important legal waiver recently expired and as a result, video game developers and publishers must now ensure that new and substantially upgraded games comply with the accessibility requirements of the 21st Century Communications and Video Accessibility Act ("CVAA"). Read more.