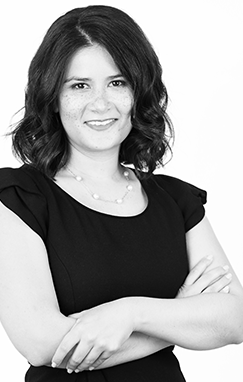 contact information
P (212) 826 5588
F (347) 482 0862
jamadeo@fkks.com

Download vCard
areas of expertise
Looking for additional information?
Find out what else we do at Frankfurt Kurnit. And how we can help.
Julie Amadeo is an associate in the Trademark & Brand Management Group at Frankfurt Kurnit.
Ms. Amadeo is experienced in all aspects of domestic and international brand building and brand protection. She handles preliminary and full trademark clearance, drafting and negotiating license, settlement, and coexistence agreements, and enforcing and protecting trademark rights. Ms. Amadeo also represents clients before the Trademark Trial and Appeal Board. She has counseled clients in the financial services, entertainment, fashion, and food and beverages industries.
Prior to joining Frankfurt Kurnit, Ms. Amadeo was an associate at Steptoe & Johnson LLP. and at Hughes Hubbard & Reed LLP. During her time at Steptoe & Johnson LLP, she assisted an NGO that educates youth interested in media in licensing their IP in furtherance of seeding other nonprofits. She was also on a team that represented a band in a dispute over ownership of their name before the Trademark Trial and Appeal Board. Ms. Amadeo's trademark and brand management clients also benefit from her substantial commercial litigation and international arbitration experience.
Ms. Amadeo is a member of the New York City Bar Association (City Bar Chorus Committee). She is admitted to practice in New York State Courts, and in the federal courts for the Eastern and Southern District of New York.
awards & recognition
New York Metro Super Lawyers "Rising Star" in Business Litigation
education
New York University School of Law (J.D., 2016)
St. John's University (M.A., 2013)
St. John's University (B.A., summa cum laude, 2012)
Upcoming Speaking Engagements
Past Speaking Engagements
The Best of 2021: Trademark Decisions Practitioners Should Know About
Join Kimberly Maynard, leading a discussion with Catherine Farrelly, Rachel Santori, Julie Amadeo, and Kristina D'Angelo of significant 2021 trademark decisions from the Federal Courts and the Trademark Trial and Appeal Board that trademark practitioners should know about. Read more.
February 3 2022
Fordham Law – DEI Series
Julie Amadeo is a panelist during Fordham Law's virtual program, "The First Generation Experience in the Practice of Law."
January 19 2022
Trademark Modernization Act: Understanding the USPTO's Final Rulemaking
Beginning in December 2021, the Director of the USPTO and brand owners alike will be able to initiate the new ex parte reexamination and expungement proceedings authorized by the Trademark Modernization Act of 2020. Join us for a conversation about those proceedings, the final rulemaking recently released by the USPTO, and the impact on brand owners. Read more.
November 30 2021