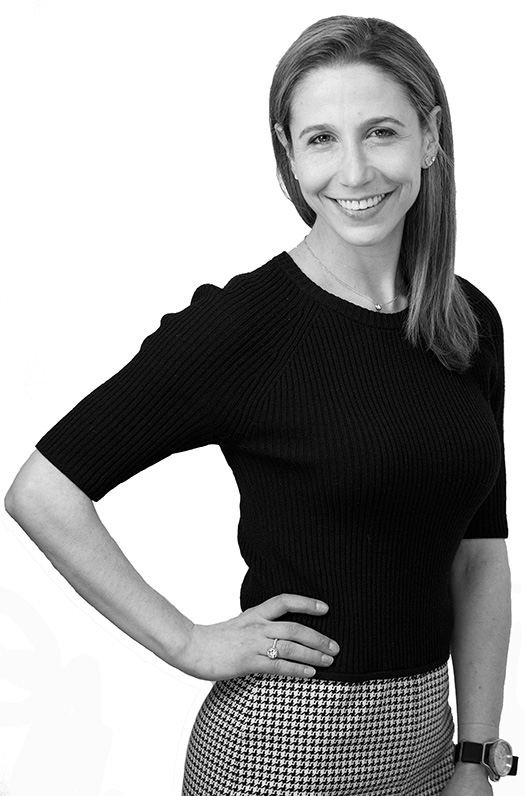 contact information
P (212) 705 4894
F (347) 438 2137
lroos@fkks.com

Download vCard
areas of expertise
Looking for additional information?
Find out what else we do at Frankfurt Kurnit. And how we can help.
Lily Roos, formerly Lily Katz, is an associate in the Litigation Group and focuses on intellectual property matters and commercial disputes.
Ms. Roos has defended media companies (both traditional and digital) facing copyright and trademark claims, secured the dismissal of a right of publicity claim on behalf of an interactive entertainment client, and served as counsel on a high-profile false advertising case between two telecommunication giants.
Prior to joining Frankfurt Kurnit, Ms. Roos was an associate at Quinn Emanuel Urquhart & Sullivan LLP, where she represented clients in complex commercial disputes and financial frauds. She clerked for the Honorable I. Leo Glasser of the United States District Court for the Eastern District of New York.
She is admitted to practice in New York state courts and federal courts in the Southern and Eastern Districts of New York.
education
University of Pennsylvania (BA, magna cum laude, Phi Beta Kappa)
Northwestern University School of Law (JD, cum laude)
Upcoming Speaking Engagements
Past Speaking Engagements
news & press
Sprint Sues AT&T for Labeling its Network '5G' When it's Actually 4G
CNBC shares the complaint filed on behalf of our client Sprint by Craig Whitney, Kimberly Maynard and Lily Roos. Sprint seeks to stop AT&T from using the terms "5GE," "5g E," "5G Evolution," and any description containing "5G." View Article
The Legal Battle Against the Trump "Travel Ban" Goes to the Supreme Court
We filed a friend-of-the-court brief in the United States Supreme Court on behalf of our client, the Anti-Defamation League, and other civil rights organizations, in support of Hawaii's challenge to President Trump's Executive Order titled "Protecting the Nation from Foreign Terrorist Entry into the United States." John B. Harris led the Frankfurt Kurnit drafting team that included Caren Lerner Decter, Jeremy S. Goldman, Lily Roos, and Rayna S. Lopyan. View Article
Art Collaborators Settle Suit over Ownership of Works
Recently, a settlement was reached in a lawsuit over the intellectual property rights in a body of thousands of works of visual art created by a husband and wife duo. Read more.
Super Bowl All-Nighter Leads to Award-Winning Travel Ban Brief
The Anti-Defamation League (ADL) awarded our law firm the Edward Brodsky Founders Award in recognition of our work for the ADL in the Trump "travel ban" cases. Bloomberg BNA and The New York Law Journal summarized our amicus brief arguments, covered our award, and explained how our brief came together.
ADL New York Honors Frankfurt Kurnit
The ADL New York region is presenting Frankfurt Kurnit with an award for our pro bono efforts in opposing the immigration ban. The award will be given at ADL's annual meeting on Tuesday, June 20, 2017 at the Jewish Museum, 1109 5th Avenue.
Federal Appeals Court Affirms Injunction Against President Trump's "Travel Ban"
CNN posted the Fourth Circuit Court of Appeals decision in International Refugee Assistance Project v. Trump, upholding the district court's nationwide preliminary injunction order against President Trump's Executive Order 13780. Frankfurt Kurnit drafted an amicus curiae brief on behalf of the Anti-Defamation League, Jewish Council for Public Affairs, Union for Reform Judaism, Central Conference of American Rabbis, and Women of Reform Judaism. View Article
Court Holds Art Advisor Must Pay Collector $1.05MM for Fraud
A New York court has ruled that an art advisor who brokered the sale of a collector's painting and secretly pocketed $1 million will have to pay the money back. Because the dispute turned on the advisor's agreement with the collector and what kind of legal duty the advisor owed to the collector, the case offers valuable lessons for people structuring art transactions. Here's what you need to know. Read more.
State of Washington v. Donald J. Trump, No. 17-35105 (9th Cir.)
We filed a friend-of-the-court brief on behalf of our client, the Anti-Defamation League, in support of Washington and Minnesota's challenge to President Trump's Executive Order titled "Protecting the Nation from Foreign Terrorist Entry into the United States." You can read our brief here.
New Federal Law Clarifies Foreign Governments' Immunity in Connection with Art Loans to US Museums
President Obama signed the Foreign Cultural Exchange Jurisdictional Immunity Clarification Act into law on December 16, 2016. This new law clarifies when foreign states and fine art carriers can avoid a lawsuit in the US arising from loans of culturally significant artwork to US museums. The new law is important to museums and fine art carriers, and is expected to encourage art loans by foreign states. Here's what you need to know. Read more.
New Federal Law Will Govern Timeliness of Nazi-Looted Art Claims
On December 16, 2016, President Obama signed into law the Holocaust Expropriated Art Recovery (HEAR) Act of 2016. Read more.