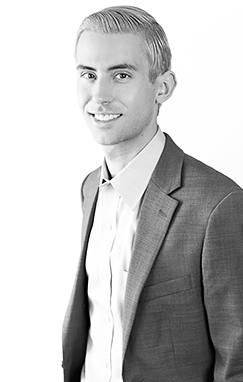 contact information
P (310) 579 9633
F (310) 933 4118
msamet@fkks.com

Download vCard
areas of expertise
Looking for additional information?
Find out what else we do at Frankfurt Kurnit. And how we can help.
Matthew Samet is an associate in the Litigation Group, focusing on entertainment, intellectual property, and commercial litigation.
Prior to joining Frankfurt Kurnit, Matthew clerked for the Honorable Steve Kim of the U.S. District Court for the Central District of California. Before his federal clerkship, he served as a fellow at Horvitz & Levy LLP, where he focused on intellectual property, employment, and commercial disputes. Matthew has represented Fortune 500 companies, entertainment personalities, and start-ups in California and federal courts.
Matthew earned his J.D. and Certificates in Entertainment and Business Law from the University of Southern California Gould School of Law. He served on the Executive Board of the Southern California Law Review as an Executive Senior Editor. Matthew earned his Bachelor of Arts at Cornell University, where he served as an Arts & Entertainment Columnist for the Cornell Daily Sun.
In addition to his litigation practice, Matthew writes often about the law and has been quoted in online publications such as The Fashion Law. His recent publications include: Procedural Analysis of Responses to a Complaint (LA Lawyer, June 2017); SLAPP Update (California Lawyer, April 2017); and Does Anti-SLAPP Law Apply to Legal Malpractice Claims? (Law360, February 13, 2017).
He is admitted to practice in California and New York. You can follow him on Twitter at @mattsametesq.
education
University of Southern California Gould School of Law (JD, 2016)
- Executive Senior Editor of the Southern California Law Review
- Certificates in Entertainment and Business Law
- American Jurisprudence Award in Federal Courts
Cornell University (BA, 2013)
- Frederick George Marcham Scholarship
- Arts & Entertainment Columnist for the Cornell Daily Sun
- Treasurer of Alpha Sigma Phi
Upcoming Speaking Engagements
Past Speaking Engagements
What's Happening in Copyright Law? Part I
Does your business depend on copyright ownership and licensing, or rise and fall with changes in copyright law? Do you use content created by others or worry that your content is going to be stolen? Are you susceptible to copyright claims from third parties or trolls? If so, please join us remotely for part one of Frankfurt Kurnit's two-part CLE update on current hot topics in copyright law. Read more.
July 22 2020
Understanding Force Majeure: Breach in a Time of Coronavirus
Join litigators from the Frankfurt Kurnit Los Angeles and New York offices for a webinar that will walk through specific "case studies" in which courts have addressed issues such as: what happens when a contract does not have specific force majeure language, how to determine if a specific event triggers a force majeure clause, whether the event prevented or impeded performance, and whether reasonable steps were taken to avoid or mitigate the effects of the event. Read more.
April 3 2020
news & press
XXL Mag Prevails in Copyright Fight Over Embedded Image About Tom Ford's Cardi B Lipstick
The Fashion Law quotes Matthew Samet on copyright infringement lawsuits over social media posts. View Article
California Courts Lift Certain COVID-19 Restrictions and Begin Preparations to Fully Reopen
As the COVID-19 crisis eases, California courts have removed certain restrictions that had been put in place to reduce pandemic-related harm. Read more.