Founded more than 40 years ago as a boutique law firm servicing the entertainment and arts communities in New York City, Frankfurt Kurnit now provides the highest quality legal services to clients in a wide range of industries and disciplines worldwide.
practice areas
What We Do
We represent some of the world's best-known publishers, producers, directors, distributors, actors, celebrities, models, writers, financiers, charitable organizations, online content and service providers, and many of the foremost advertising agencies, information technology companies, and corporate brands. We also represent corporate and individual clients in complex business transactions and commercial disputes, and provide venture financing, securities fraud, white collar defense, privacy and data security, employment, ethics, tax, trusts and estates, and real estate advice. By combining a deep industry knowledge across a diverse group of lawyers and practice groups, Frankfurt Kurnit brings a unique, client-focused approach to helping clients achieve their goals, whether resolving a dispute, getting the deal done, or just planning for the future. Read more.
people
Our Attorneys
Our attorneys represent Fortune 500 companies and smaller businesses, award-winning creative talent, and individuals, business owners, and corporate executives. Read more.
culture
Our Culture
Our culture distinguishes us, and we have worked hard to create a diverse firm that values the human aspect of the practice of law. Our lawyers are leaders in their fields, and they love what they do. And when lawyers and staff are truly passionate about what they do, they bring that energy and enthusiasm to their work for our clients. We also believe that when lawyers work with amazing clients on interesting and challenging work, in a supportive environment, they will want to spend their careers at the firm. Our commitment to the people in our firm is well-recognized. For example, Crain's New York Business has named the firm as one of the "Best Places to Work in New York City" for the thirteen years. Working Mother magazine has named the firm as one of the "Best Law Firms for Women" in the United States for nine years. The Los Angeles Business Journal included us on its list of the "100 Best Places to Work" in LA. Vault Rankings included the firm as one of the "Top 150 Under 150" midsize law firms in New York and one of the Best Law Firms for Media, Entertainment, & Sports. Law360 recently included us in its report of Social Impact Leaders – we were #3 among firms our size – based on our racial and ethnic diversity, gender equality, employee engagement, pro bono service and responsible business practices. Super Lawyers magazine (here), the New York Law Journal (here), and, again, Law360 (here) have all celebrated our culture, our commitment to racial justice, and our approach to legal practice.
In honor of our founder Mike Frankfurt's 80th birthday, we commissioned Peabody Award-winning filmmaker Judith Helfand to make a short film about the history of our firm.
The Frankfurt Kurnit Story from Frankfurt Kurnit Klein & Selz PC on Vimeo.
pro bono
Community Involvement
In addition to our 25 practice groups, we also provide pro bono legal services and other support to children's services groups and educational institutions; to artist and trade organizations; to advocacy and charitable entities that support homeless and impoverished people; and to victims of illegal discrimination. Read more.
We were proud to recently support New York Restoration Project in its efforts to restore a local park in Harlem. The firm's attorneys and staff planted, weeded, and cleaned a stretch of Highbridge Park for several hours to help improve the area for residents, bikers and students and teachers of nearby schools.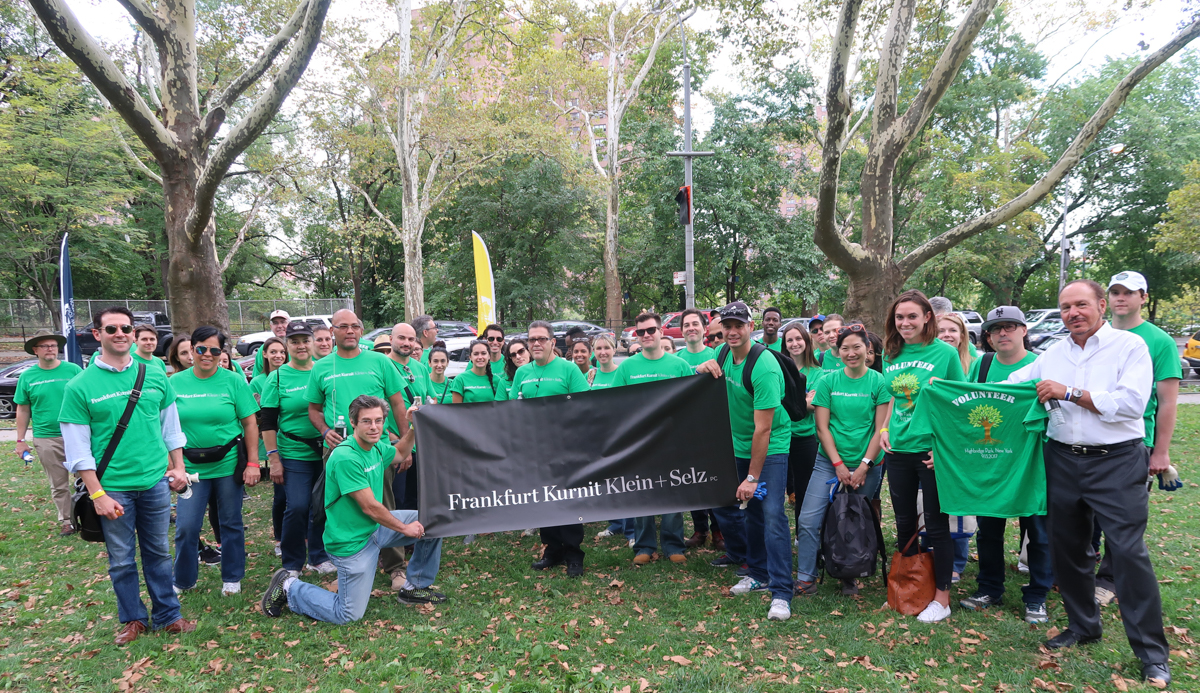 careers
One of the "Best Places to Work"
Frankfurt Kurnit is on Crain's New York's "Best Places to Work" list and the National Law Journal's "Midsize Hot List". We're an extremely diverse law firm with high-achieving attorneys and staff, a great culture, and open communication. To learn about career opportunities at Frankfurt Kurnit please contact us today. Read more.
diversity
Our Diversity Furthers Our Commitment to Excellence
We believe valuing and promoting diversity should be a core value for all successful businesses. We strive every day to create and revisit the policies, procedures, outreach, training, and, especially, the culture necessary to maintain and grow the supportive and inclusive workplace we have established for our attorneys and staff, as well as our clients. We believe everyone, not only those who fall within recognized diverse communities, benefits from working in an environment where ideas and contributions are judged on their merit, not by whom they come from. Read more.