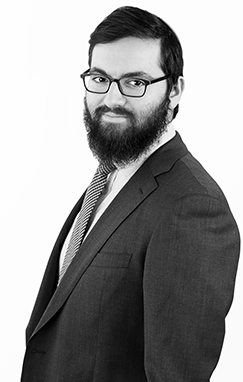 contact information
P (646) 521 3718
F (347) 380 8107
adeitsch@fkks.com

Download vCard
areas of expertise
Looking for additional information?
Find out what else we do at Frankfurt Kurnit. And how we can help.
Aaron Deitsch is an associate in the Entertainment Group, where he works on transactional matters across the television, film, documentary, and podcast industries.
Mr. Deitsch's practice includes a wide variety of entertainment projects, from independent films recognized at Sundance Film Festival to reality television competition programs. He has extensive experience negotiating and drafting contracts related to each stage of productions, such as development attachment agreements, production services agreements, talent agreements, collaboration agreements, underlying rights agreements, appearance releases, location agreements, product placement agreements, shopping agreements, and distribution agreements. Additionally, he provides time-sensitive legal counsel to producers.
Mr. Deitsch also has significant experience in matters involving celebrity branding, where he has structured and negotiated endorsement deals and collaboration agreements for social media campaigns and merchandising arrangements.
He was recognized by Super Lawyers magazine as a New York-area "Rising Star" in the field of entertainment and sports in 2021 and 2022.
Prior to joining Frankfurt Kurnit, Mr. Deitsch was an associate at Romano Law PLLC, where he acted as production counsel on many film and television projects, both scripted and unscripted, as well as outside counsel to several record labels.
Mr. Deitsch earned his J.D. from the Benjamin N. Cardozo School of Law with a concentration in Intellectual Property and Information Law and a Bachelor of Arts degree in Psychology from the University of New Haven (magna cum laude). He has been an Associate Member of the Dramatists Guild of America since 2016. He is admitted to practice in New York.
awards & recognition
Super Lawyers New York-area "Rising Star"
education
Benjamin N. Cardozo School of Law (J.D.)
University of New Haven (B.A., magna cum laude)
Upcoming Speaking Engagements
Past Speaking Engagements
news & press
Thirty-five Frankfurt Kurnit Attorneys Named to Super Lawyers New York Metro List for 2022
The list includes: Christopher R. Chase, Victoria Cook, Lisa E. Davis, Caren Decter, Catherine M.C. Farrelly, Michael P. Frankfurt, Hayden Goldblatt, Jeffrey A. Greenbaum, John B. Harris, Richard B. Heller, Richard Hofstetter, Nicole Hyland, Candice Kersh, Brian E. Maas, Richard Maltz, Jeffrey Marks, Kimberly Maynard, Mark Merriman, Ronald C. Minkoff, Brian G. Murphy, Edward H. Rosenthal, Terri Seligman, Barbara E. Shiers, Wendy Stryker, Hannah Taylor, Linda Wank, S. Jean Ward, Craig Whitney and Maura Wogan. Aaron Deitsch, Christina Jenkins, Sasha Levites, Tyler Maulsby, Jordyn Milewski, and Adam Osterweil are listed as "Rising Stars." Read more.