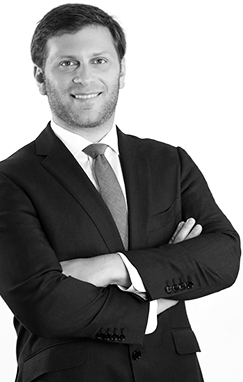 contact information
P (212) 705 4856
F (424) 372 2949
bmoskowitz@fkks.com

Download vCard
areas of expertise
Looking for additional information?
Find out what else we do at Frankfurt Kurnit. And how we can help.
Ben Moskowitz is counsel to the Entertainment Group, where he works on transactional matters across television, film, podcasts, and streaming content. Variety includes him on their list of Hollywood's New Leaders in 2023 and The Legal 500 lists him as a "Rising Star" and "Key Lawyer" in Media and Entertainment for 2023.
Mr. Moskowitz represents a cross section of entertainment clients, from production companies and producers, to directors and television personalities. He has worked on various matters at each stage of the production cycle, securing rights to content for clients to serve as the basis of projects, assisting in the sale and option of original ideas to networks and studios, and providing legal support on all manner of production and distribution agreements to bring programming to life.
In doing so, Mr. Moskowitz has served as production counsel on numerous documentary films, television shows, and streaming programs of all size and form, from festival-focused projects to network headlining programs.
Prior to joining Frankfurt Kurnit, Mr. Moskowitz served as counsel at Vox Media, Inc. and also at Group Nine Media, Inc., at both companies helping to build their entertainment production capabilities. Before becoming a lawyer, Mr. Moskowitz was an NBC Page and worked in television production. Mr. Moskowitz graduated magna cum laude and was a member of Phi Beta Kappa at Tufts University with degrees in History and Classics. He received his law degree from Fordham University where he was a staff member of the Intellectual Property, Media, and Entertainment Law Journal.
He is admitted to practice in New York.
awards & recognition
Variety: Hollywood's New Leaders of 2023
The Legal 500 "Rising Star" in Media & Entertainment (2023)
The Legal 500 "Key Lawyer" in Media & Entertainment (2023)
education
Fordham University School of Law (J.D.)
Tufts University (B.A. History, Classics - magna cum laude)
Upcoming Speaking Engagements
Past Speaking Engagements
Stranger Than Fiction 2.0: A Roundtable on True-Crime Legal Issues
Melissa Georges, Julie Murray and Ben Moskowitz present "Stranger Than Fiction 2.0: A Roundtable on True-Crime Legal Issues" during a recorded presentation for the National Academy of Continuing Legal Education (NACLE).
July 31 2019
news & press
Frankfurt Kurnit in The Legal 500 2023
The Legal 500 once again praises Frankfurt Kurnit practice groups and attorneys in the 2023 edition of their United States guide. Read more.
Major Studios and Guilds Forge New COVID-19 Production Safety Agreement
As production begins to restart in an ever changing COVID-19 landscape, The Alliance of Motion Picture and Television Producers (AMPTP) and other major studios announced an important deal with the DGA, IATSE, Teamsters, Basic Crafts, and SAG-AFTRA -- meant to ensure the safety and security of their members during the upcoming months. Read more.
New York City Reopens for Film and Television Production
On July 17, 2020 NYC Mayor Bill de Blasio announced that, with the City entering Phase Four of Reopening on Monday July 20th, 2020, film and television production in the City can restart again in earnest. Read more.
Los Angeles County Authorizes Television, Film, and Music Production Resume on June 12, 2020 With Strict Regulations
On June 11, Los Angeles County approved a staged resumption of film and TV production beginning June 12, 2020. However, it comes with extensive regulations. Read more.
California Will Permit Television, Film, and Music Production to Resume on June 12, 2020 Subject to County Public Health Approvals
As several production-heavy states announce the easing of stay-at-home orders and restrictions, the question of how to restart entertainment production in a safe manner has become paramount. Read more.