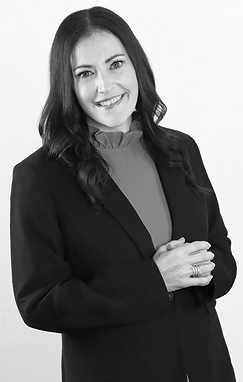 contact information
P (212) 705-4832
F (315) 849 0847
lgoldberg@fkks.com

Download vCard
areas of expertise
Looking for additional information?
Find out what else we do at Frankfurt Kurnit. And how we can help.
Lee Goldberg is Counsel to the Entertainment Group. Ms. Goldberg has substantial experience handling a broad range of entertainment transactions, with a special focus on scripted television. She also handles copyright, trademark, and other intellectual property law matters. Best Lawyers in America included Ms. Goldberg in the 2024 edition for Entertainment Law – Motion Pictures and Television.
Ms. Goldberg's practice includes representing financiers and creatives from development through production. She structures, and negotiates agreements for individuals and companies on all sides of the entertainment industry. She is well versed on development, option purchases, production, acquisition, co-production, guild law and distribution agreements. Ms. Goldberg's clients range from writers, directors, on screen talent, advertising agencies, financiers, production companies and studios. She brings a unique insight to her clients through the entertainment deal making process from her past in house work at a studio.
Prior to joining Frankfurt Kurnit, Ms. Goldberg worked at AMC Networks and AMC Studios, handling development and production deals for AMC's suite of channels — including writer, director, producer and production company agreements. She has worked on foreign co-production, underlying rights and all sides of scripted above-the-line and below-the-line deals. She advises clients on risk analysis, programming rights, distribution agreements, rules and regulations for SAG/AFTRA, WGA, and DGA, intellectual property issues, and fair use as it applies to television programming and production.
Ms. Goldberg began her career at ESPN in Content Development and ESPN Film groups and worked on the first 30 for 30 series and other programs. She handled rights and clearances, license agreements and advised on distribution rights. Additionally Ms. Goldberg acted as an associate producer on several 30 for 30 films and earned a Peabody award for her work. She is admitted to practice in New York.

awards & recognition
Best Lawyers in America (Entertainment Law - Motion Pictures and Television)
education
Hofstra School of Law (J.D.)
George Washington University (B.A.)
Upcoming Speaking Engagements
Past Speaking Engagements
Entertainment Law Symposium
Lee Goldberg is a panelist during the session, "The Road to Impasse: Why Hollywood is Bracing for a Possible WGA Strike and Looking Forward" during the Entertainment Law Symposium hosted by Brooklyn Law School. Read more.
April 21 2023
news & press
The Best Lawyers in America 2024
Best Lawyers in America recognizes 44 Frankfurt Kurnit attorneys in the 2024 edition. Read more.
Former ABC News President James Goldston Inks Deal With Kapital Entertainment For Scripted & Docuseries; 'Kushner, Inc' Among First Projects
Deadline mentions Lee Goldberg and Richard Hofstetter as counsel to James Goldston. View Article
'Hala' Filmmaker Minhal Baig Strikes Overall Deal with Amazon, Adapting Horror Short-Story Collection 'Mouthful of Birds'
Deadline mentions Hayden Goldblatt and Lee Goldberg who negotiated the adaptation of "Mouthful of Birds" for Amazon Studios. View Article
FilmNation Entertainment Inks Multi-Year TV Development Fund Deal With Wishmore
Deadline mentions Victoria Cook and Lee Goldberg who negotiated the development fund on behalf of Wishmore. View Article
Cazzie David Comedy 'Half-Empty' Gets Amazon Pilot Order
Deadline mentions Victoria Cook and Lee Goldberg as counsel to Augustine Frizzell who will direct and executive produce the pilot for Amazon's new comedy "Half-Empty." View Article