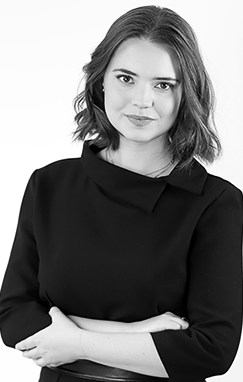 contact information
P (212) 826 5588
F (347) 756 5587
ldecoppet@fkks.com

Download vCard
areas of expertise
Looking for additional information?
Find out what else we do at Frankfurt Kurnit. And how we can help.
Louise E. Decoppet is an Associate in the Trademark & Brand Management Group.
Ms. Decoppet focuses her practice on all aspects of international and domestic brand building. She helps her clients develop effective strategies to secure and enforce their intellectual property rights around the world.
She represents well-known companies and individuals in a variety of industries, including entertainment, art, fashion, beauty, food, video games, finance, hospitality, and publishing. She advises on trademark protection options, and has experience preventing the unauthorized use of trademarks and copyrights through litigation, including preliminary injunction, negotiation, and counterfeit seizures. She also has experience working on matters involving fair use, right of publicity, false advertising, licensing, translation agreement, distribution contract, copyright infringement, artists estates, chain of title/provenance, and attribution issues.
Louise is passionate about helping filmmakers, authors, artists, designers, emerging brands, heritage establishments, and other creatives protect their rights, develop their current projects, and establish their legacies.
Prior to joining Frankfurt Kurnit, Ms. Decoppet was an associate at Fross Zelnick in the International Trademark group and an associate at Kirkland & Ellis in the Copyright, Trademark, Internet, and Advertising Litigation group.
Ms. Decoppet graduated from the University of California Berkeley School of Law where she served as the Production Editor of the Berkeley Technology Law Journal, the most-cited technology law journal in the country. Ms. Decoppet graduated from The Courtauld Institute of Art in London with a master's degree in Renaissance Art History, and Harvard College, with a bachelor's degree in Art History. She has worked in a number of galleries, museums, and fine arts dealerships around the world, and is interested in the ownership of ideas, symbols, and images, and the legal frameworks shaping our visual and cultural landscape.
She is admitted to practice in New York. She has lived in the U.S., England, France, Italy, and Venezuela.
education
University of California Berkeley School of Law
The Courtauld Institute of Art in London
Harvard College
Upcoming Speaking Engagements
Past Speaking Engagements