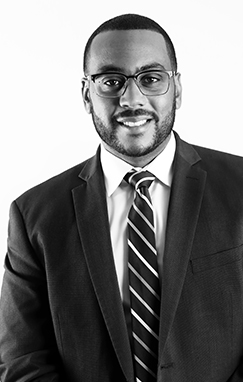 contact information
P (212) 705 4896
F (347) 438-2166
sjefferson@fkks.com

Download vCard
areas of expertise
Looking for additional information?
Find out what else we do at Frankfurt Kurnit. And how we can help.
Sean Jefferson is an associate in the Entertainment Group.
Mr. Jefferson has wide-ranging experience in all areas of entertainment and media, representing financiers, production companies, producers, documentary filmmakers, directors, athletes, writers and independent distributors. He has negotiated complex single picture and slate multi-party financings both on behalf of producers and financiers. He has also represented producers in recent cutting edge political documentaries. Mr. Jefferson is experienced in structuring and negotiating rights acquisition, content distribution, sales agreements both domestic and foreign, and co-production and financing agreements.
Variety included Mr. Jefferson in its 2021 Legal Impact Report. He was previously recognized in Variety's 2020 Dealmaker Impact Report "Up Next" List. Mr. Jefferson was also recognized in the First Edition of Best Lawyers: Ones to Watch for Entertainment and Sports law. The LA Times also recently featured Mr. Jefferson in its article, "Finding outside help to finance movies: Pandemic uncertainty has prompted the studios to partner with new investors."
Prior to joining Frankfurt Kurnit, he served as an associate in the Business and Legal Affairs Department at BRON Studios where he helped structure and draft rights acquisition, financing, and production deals and assisted with the negotiation of distribution deals for several feature films, including "Assassination Nation" and "Leave No Trace."
He is admitted to practice in New York.
awards & recognition
Best Lawyers in America "Ones to Watch" 2021 (Entertainment and Sports)
Variety's 2021 Legal Impact Report
Variety's 2020 Dealmaker Impact Report "Up Next" List
education
St. John's University (BS in Legal Studies) 2013
St. John's University School of Law (JD) 2016
Upcoming Speaking Engagements
Past Speaking Engagements
Black in Copyright (Part I)
Sean Jefferson presents, "Black in Copyright" during part one of the Copyright Society and Copyright Alliance's three-part webinar series. More information here.
March 2 2021
American Black Film Festival
Lisa E. Davis, Marcie Cleary and Sean Jefferson present "Making the Deal – Knowing What Matters" during a master class at the American Black Film Festival in Miami Beach. More information here.
June 15 2019
news & press
Variety's Dealmakers Impact Report 2020: Top Negotiators That Have Kept Hollywood Humming
Variety includes Sean Jefferson in their Dealmakers Impact Report "Up Next" list for 2020. View Article
Finding Outside Help to Finance Movies: Pandemic Uncertainty Has Prompted the Studios to Partner with New Investors
The Los Angeles Times quotes Sean Jefferson on different approaches to film financing due to the pandemic. View Article
The Best Lawyers in America 2021
We are pleased to report that Best Lawyers — the oldest and one of the most respected peer reviewed lawyer recommendation services — continues to recommend Frankfurt Kurnit. Read more.