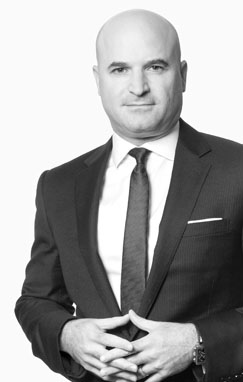 contact information
P (212) 705 4857
F (347) 438 2176
asacks@fkks.com

Download vCard
areas of expertise
Looking for additional information?
Find out what else we do at Frankfurt Kurnit. And how we can help.
Alan Sacks is a partner in the Entertainment, IP Finance and Sports Groups.
His blend of entertainment law and hands-on entertainment industry, transactional and advisory experience - combined with a substantial corporate finance and private equity background - makes him a go-to lawyer for significant film and television clients worldwide.
Mr. Sacks represents individual financiers, writers, directors, actors and producers in both the studio system and independent arena, in addition to authors, photographers, athletes, sports properties, sponsors and brands. He advises on a wide range of financing, distribution, talent, celebrity branding and sports endorsement and sponsorship issues. He has special expertise in entertainment finance, structured financing products, and motion picture distribution, and he applies all of these skills in both traditional media as well as the ever-evolving digital and split-rights arenas.
Mr. Sacks is active in philanthropic initiatives. He sits on the board of a public charity and supports community-based programs in New York and parts of Africa. Mr. Sacks was also the founder of Centric SB Entertainment, a unit of Centric Capital Ventures, LLC, a principal investment firm. In this role, he helped to source and facilitate investments, strategic transactions, and new business opportunities in film, television, and other media in the U.S. and abroad.
Mr. Sacks has written for The Hollywood Reporter and other publications. He is admitted to practice in New York.
education
University of Witwatersrand in South Africa
Duke University School of Law (JD)
Upcoming Speaking Engagements
Past Speaking Engagements
Gotham Media 2015 Forecast Event
Frankfurt Kurnit hosts Gotham Media's 2015 "Forecast" event beginning at 8:30AM. Alan Sacks moderates a panel featuring executives from CAA, Rebel Mouse, Grand Street, and Vox Media.
December 9 2014
news & press
May Sports Industry News
Here's what's happening at the intersection of sports, marketing, and entertainment law. Read more.
April Sports Industry News
So much is happening at the intersection of sports, marketing, and entertainment that we've been inspired to send you summaries to help you put it all into context. Please enjoy this month's content. Read more.
Athletes Quarterly Publishes Alan Sacks Article on Selling Your Story
Alan Sack's article, "Selling Your Story: What Are Your Creative Life Rights Worth? More Than You Think" speaks to the valuable opportunity that can arise from selling your life rights for a feature film, television series or book based on your life. View article.
Tom Hanks, Emma Watson Thriller 'The Circle' Sells to EuropaCorp
The Wrap mentions Andrew Hurwitz and Alan Sacks in the article, "Tom Hanks, Emma Watson Thriller 'The Circle' Sells to EuropaCorp". View Article
"Building Your Brand-Smart Moves for Sweat Equity" by Deb Wolfe and Alan Sacks in Athletes Quarterly
Alan Sacks and Deborah Wolfe's article, "Building Your Brand: Smart Moves for Sweat Equity" is featured in the Holiday issue of Athletes Quarterly. View Article
"MY BIG FAT GREEK WEDDING": A Securities Law Trap
We frequently see private placement memoranda, seeking to raise capital for films, which refer to independent film success stories such as "My Big Fat Greek Wedding," "Little Miss Sunshine," or other independent films which became box office hits. Read more.
Terrence Malick-Produced 'The Better Angels' Gets U.S. Distribution
The Hollywood Reporter and Deadline listed Hayden Goldblatt and Alan Sacks as representation for the filmmakers of "The Better Angels" in a distribution deal with Amplify. View Article
Andrew Hurwitz and Alan Sacks in Variety
Variety cited Andrew Hurwitz and Alan Sacks as counsel to Freestyle Releasing in its acquisition of North American rights for the sketch-comedy "Inappropriate Comedy." View Article