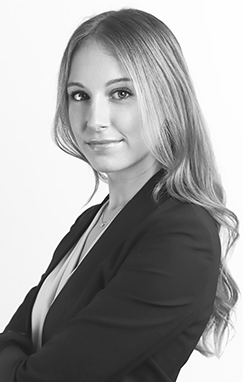 contact information
P (212) 705 4820
F (315) 930 3520
jmilewski@fkks.com

Download vCard
areas of expertise
Looking for additional information?
Find out what else we do at Frankfurt Kurnit. And how we can help.
Jordyn (Eisenpress) Milewski is an associate in the Advertising, Marketing & Public Relations Group. She is recognized by Super Lawyers magazine as a 2022-2023 "Rising Star" in Entertainment & Sports Law and Advertising Law.
Jordyn focuses on a wide variety of advertising-related matters across a broad range of industries, including food and beverage, alcohol, automotive, pharmaceuticals, sports, and beauty.
She has experience working on all types of transactional matters, including drafting and negotiating sponsorship agreements, media and custom content agreements, license agreements, talent and influencer agreements, and more.
Jordyn also regularly advises on advertising copy, sponsored content, sweepstakes and promotions, and intellectual property and right of publicity clearance. She has also worked with clients on resolving high profile regulatory compliance matters.
In addition, Jordyn frequently represents clients before the National Advertising Division (NAD). She has assisted in the representation of challengers, advertisers, and the NAD itself, in both competitive disputes and public monitoring cases. Jordyn previously spent time with NAD reviewing claim substantiation, analyzing consumer perception evidence, and drafting opinions. Most recently, while at Frankfurt Kurnit, she helped secure a favorable decision on behalf of one of the world's largest pharmaceutical companies in a challenge involving competitive over-the-counter medications.
She regularly speaks on advertising matters such as influencer marketing and environmental marketing, and has guest lectured at Columbia Law School's seminar on Media Law. Jordyn is also the co-author of the 2021 USA chapter of Lexology's Getting the Deal Through: Advertising & Marketing.
Before pursuing a legal career, Jordyn worked in the public relations industry, focusing on digital and social media strategy. She is admitted to practice in New York.
awards & recognition
Super Lawyers New York Metro-area "Rising Star" (2022-2023)
education
Columbia Law School (J.D.)
- Harlan Fiske Stone Scholar
- Carroll G. Harper prize recipient
- Executive Submissions Editor, Columbia Journal of Law & the Arts
- Regional Champion, Best Appellant Brief & National Quarterfinalist, American Intellectual Property Law Association Moot Court Competition
University of Wisconsin-Madison (B.A., with comprehensive honors)
Upcoming Speaking Engagements
Past Speaking Engagements
news & press
40 Frankfurt Kurnit Attorneys Named to Super Lawyers New York Metro List for 2023
Super Lawyers magazine lists 40 Frankfurt Kurnit attorneys in its 2023 NY-metro edition. Read more.
Kellogg Ruling Guides On Easing Consumer Labeling 'Beef'
Law360 published Ariel Radow and Jordyn Milewski's article, "Kellogg Ruling Guides On Easing Consumer Labeling 'Beef.'" Read more.
Thirty-five Frankfurt Kurnit Attorneys Named to Super Lawyers New York Metro List for 2022
The list includes: Christopher R. Chase, Victoria Cook, Lisa E. Davis, Caren Decter, Catherine M.C. Farrelly, Michael P. Frankfurt, Hayden Goldblatt, Jeffrey A. Greenbaum, John B. Harris, Richard B. Heller, Richard Hofstetter, Nicole Hyland, Candice Kersh, Brian E. Maas, Richard Maltz, Jeffrey Marks, Kimberly Maynard, Mark Merriman, Ronald C. Minkoff, Brian G. Murphy, Edward H. Rosenthal, Terri Seligman, Barbara E. Shiers, Wendy Stryker, Hannah Taylor, Linda Wank, S. Jean Ward, Craig Whitney and Maura Wogan. Aaron Deitsch, Christina Jenkins, Sasha Levites, Tyler Maulsby, Jordyn Milewski, and Adam Osterweil are listed as "Rising Stars." Read more.
Lexology Getting the Deal Through: Advertising & Marketing 2021
Lexology Getting the Deal Through published the 2021 edition of Advertising & Marketing. Terri Seligman and Jordyn Eisenpress authored the USA Chapter. View Article
Setting it Straight: NAD Weighs In On Teeth Aligner Claims
MarketScreener shared Jordyn Eisenpress's blog post "Setting it Straight: NAD Weighs In On Teeth Aligner Claims." View Article
Video Games With Advanced Communications Services Must Now Be Accessible to Players With Disabilities
An important legal waiver recently expired and as a result, video game developers and publishers must now ensure that new and substantially upgraded games comply with the accessibility requirements of the 21st Century Communications and Video Accessibility Act ("CVAA"). Read more.