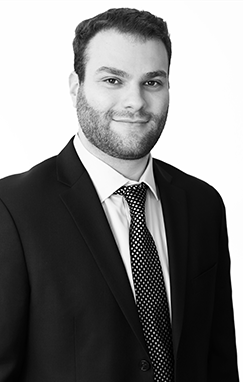 contact information
P (212) 705 4817
F (315) 883 8406
zlewis@fkks.com

Download vCard
areas of expertise
Looking for additional information?
Find out what else we do at Frankfurt Kurnit. And how we can help.
Zach Lewis is an associate in the Interactive Entertainment and Blockchain Technology Groups. He counsels clients on the metaverse, non-fungible tokens (NFTs), Web3, and new technology ventures across a wide range of industries, from video games and music to fashion, food, and film.
Zach works with clients on a variety of intellectual property matters, entertainment and brand deals, marketing agreements, privacy policies, and terms of service for various platforms utilizing blockchain technology.
Before joining Frankfurt Kurnit, Zach graduated cum laude from Temple Law in Philadelphia with a full tuition scholarship. There, he was also awarded for his outstanding trial, mediation, and oral advocacy and worked as a Staff Editor for the Temple Law Review. For years, Zach wrote about the intersection of law and technology with a particular focus on intellectual property law. He later served as a judicial clerk to the Honorable Anne E. Lazarus of the Superior Court of Pennsylvania. He was recognized by Marquis Who's Who in America in 2020 for his dedication to the field of law and passion for learning.
In 2021, Zach created Blockchain Barristers, an active global community that includes hundreds of lawyers and law students focused on legal issues surrounding blockchain technology. He currently serves as the lead community manager, compiling open access resources and facilitating virtual and in-person discussions for members in addition to working on other benefits.
Zach is also a passionate NFT collector and advocate with an academic background in psychology. He frequently speaks and writes about Web3, smart contracts, the metaverse, and the potential for NFTs and blockchain technology to empower individuals, invigorate companies, and disrupt a variety of industries. He offers the incredibly unique perspective of a collector, consumer, community member, and lawyer when discussing blockchain, culture, and the law with clients to help them navigate these rapidly changing landscapes.
Zach is admitted to practice in California and Pennsylvania. He speaks, reads, and writes fluent Spanish.
awards & recognition
Marquis Who's Who in America (2020)
education
Temple University James E. Beasley School of Law (J.D., cum laude, 2019)
Pennsylvania State University (B.S., 2016)
Upcoming Speaking Engagements
Past Speaking Engagements
news & press
Why I'm Open-Sourcing an NFT Insider Trading Policy for the Web3 Community
Jeremy S. Goldman and Zach Lewis worked with bestselling author/blogger Tim Ferriss on drafting an NFT Insider Trading Policy that encourages good behavior and self-regulation in Web3. Read more.
Hottest Firms and Stories on Law360 June 2022
Daniel M. Goldberg and Zach Lewis's article, "Key Privacy Issues To Consider Before Launching An NFT" is included in Law360's roundup of the stories that generated the most buzz over the past week. View Article
Key Privacy Issues To Consider Before Launching An NFT
Law360 published Daniel M. Goldberg and Zach Lewis's expert analysis article, "Key Privacy Issues to Consider Before Launching an NFT." The article suggests that there are five steps in dropping an NFT collection, and examines the privacy and data protection issues brands must consider through each of the five steps. View Article