Sign Up for Alerts
Sign up to receive receive industry-specific emails from our legal team.

Sign Up.
December 11th, 2019
Get Ready for New York Minimum Wage and Exempt Salary Changes
Increases to the New York State minimum hourly wage for non-exempt employees and increases in the minimum salary for exempt administrative and executive employees take effect on December 31, 2019. The required minimum rate and salary depends on the employee's location and number of employees. Here's what New York employers need to know.
Non-Exempt Minimum Hourly Wage Rate
The New York State minimum hourly wage rate will increase as follows: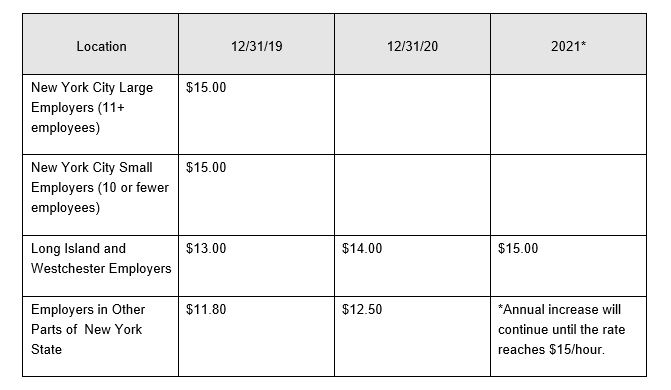 Minimum Salary for Exempt Administrative and Executive Employees
The minimum weekly and annual salary that exempt administrative and executive employees in New York State must receive in order to be exempt from overtime will also increase effective December 31, 2019, as follows: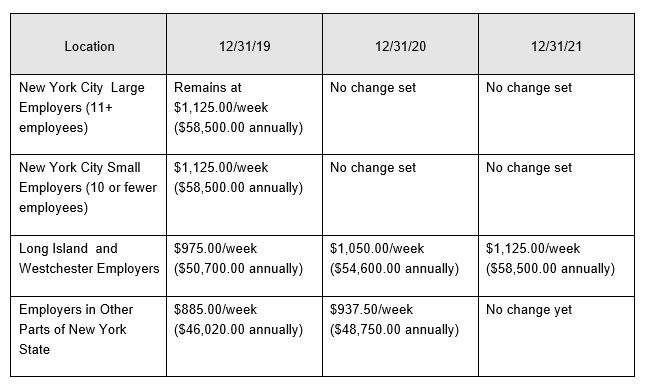 Minimum Salary for Exempt Professional Employees
New York State does not mandate a minimum salary that professional employees must receive in order to remain exempt from overtime, and for such employees New York State employers must comply with the standards of the federal Fair Labor Standards Act, which required a minimum exempt salary of $455.00/week.
New York State employers should take note that the U.S. Department of Labor has published its final rule raising the federal salary threshold for all executive, administrative and professional exemptions to $684.00/week ($35,568.00 annually). This amount allows employers to use nondiscretionary bonuses and incentive payments to satisfy up to 10% of this threshold. The new salary threshold will take effect on January 1, 2020.
New York State employers of exempt "professional" employees will want to review all such workers' salaries and craft a plan for either providing a salary increase or converting workers to non-exempt status (including tracking hours and paying overtime).
Note on 2020 Changes in New York Paid Family Leave
Next year will also see some new changes in New York Paid Family Leave (NYPFL). This will include an increase in employee benefits under the NYPFL to 60% of their average weekly wage with a cap of $840.70 per week. A new employee contribution rate of 0.27% of an employee's gross wages (with a maximum annual contribution of $196.72) will also be introduced.
If you have questions about these changes or other employment law matters, or would like to schedule a training session, contact Wendy Stryker at (212) 705 4838 or wstryker@fkks.com, or any other member of the Frankfurt Kurnit Executive Compensation & Employment Group.
Other Employment Law Alerts
New Ruling from the National Labor Relations Board May Require Significant Handbook Revisions
On August 2, the National Labor Relations Board issued a decision, Stericycle Inc. and Teamsters Local 628, that creates a new legal standard for how the NLRB will evaluate workplace rules and policies to determine if such rules interfere with employees' protected rights to engage in concerted workplace activity under Section 7 of the National Labor Relations Act. Read more.
August 8 2023
New York Releases New Changes to its Model Sexual Harassment Policy and Training Video
On April 11, 2023, the New York State Department of Labor released updated versions of its sexual harassment model policy and training materials. Read more.
April 17 2023
National Labor Relations Board Provides Key Guidance on Severance Agreements
On March 22, 2023, the National Labor Relations Board ("NLRB" or the "Board") released a memorandum providing employers of both unionized and private sector workplaces with important guidance about severance agreements that contain broad confidentiality and/or non-disparagement provisions (the "Memo"). Read more.
March 30 2023