Sign Up for Alerts
Sign up to receive receive industry-specific emails from our legal team.

Sign Up.
March 23rd, 2020
Updates to Federal and State Employee Leave and Sick Leave Laws
The ongoing COVID-19 crisis has prompted a number of new federal and state laws related to employee leave and sick leave. This alert will highlight recent changes in federal and New York law.
Changes in Federal Law
On March 18, President Trump signed the Families First Coronavirus Response Act (FFA). While this law covers a broad range of matters, this alert will focus on provisions addressing paid family and medical leave and emergency paid sick leave.
Family and Medical Leave Act
The existing Family and Medical Leave Act provides eligible employees of covered employers with up to 12 weeks of unpaid leave for qualifying events. Starting April 2, 2020 and through December 31, 2020, the Family Medical Leave Act is amended as follows: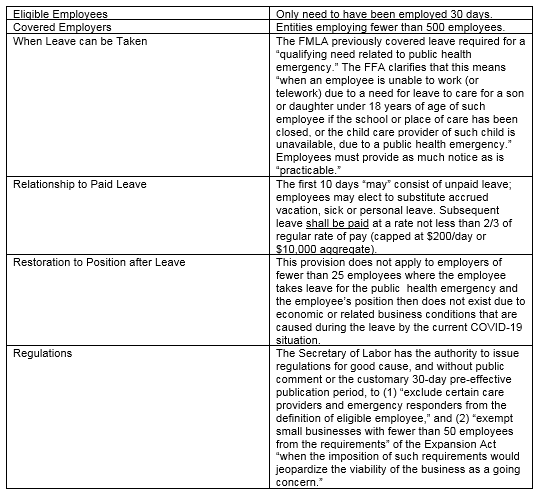 Employer may be able to seek reimbursement for sick pay through application for payroll tax credits.
Emergency Paid Sick Leave Act
The FFA also provides for emergency sick leave for employees related to COVID-19. This provision of the act goes into effect 15 days after enactment, or April 2, 2020 and expires on December 31, 2020.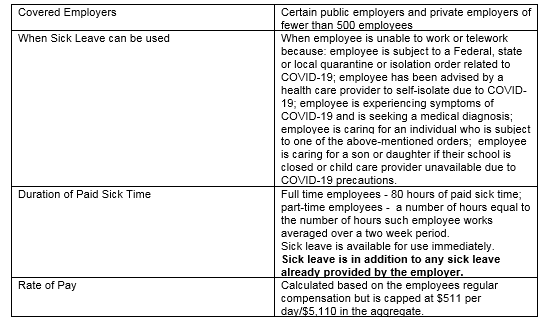 New York State Laws
Executive Order 202.8: Governor Cuomo has signed an Executive Order mandating that all workers excluding essential services must stay home. Essential businesses include industries such as health care, utilities, telecommunications, manufacturing, groceries, pharmacies, news media, and banks.
State Sick Leave: New York Governor Andrew Cuomo signed into Assembly Bill No. A10153/Senate Bill No. S08091, a law to make all employees in the State eligible for sick leave and wage replacement while they are subject to a quarantine or isolation order issued by the state of New York, the Department of Health, the local board of health, or any government entity authorized to make such an order, regardless whether the quarantining is mandatory or precautionary. Note that the benefits under the new law will only apply to the extent that federal law (i.e., the FFA, as discussed above) does not already provide said benefits. Specifically, if the provisions of the NY law would have provided more benefits than any applicable federal law or regulation, the employee will be entitled to any additional sick leave and/or employee benefits that the NY law provides. The new law takes effect immediately.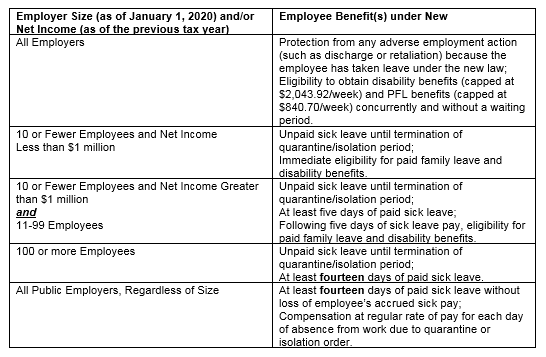 If you have questions about these recent changes to federal and state employee leave and sick leave laws, please contact Wendy Stryker, Tricia Legittino, or any other member of the Frankfurt Kurnit Employment Compliance, Training & Litigation Group
Other Employment Law Alerts
New York Releases New Changes to its Model Sexual Harassment Policy and Training Video
On April 11, 2023, the New York State Department of Labor released updated versions of its sexual harassment model policy and training materials. Read more.
April 17 2023
National Labor Relations Board Provides Key Guidance on Severance Agreements
On March 22, 2023, the National Labor Relations Board ("NLRB" or the "Board") released a memorandum providing employers of both unionized and private sector workplaces with important guidance about severance agreements that contain broad confidentiality and/or non-disparagement provisions (the "Memo"). Read more.
March 30 2023
Top New California Employment Laws for 2023
We share a snapshot of the new employment laws California employers and employees need to know as they start off 2023. Read more.
January 3 2023