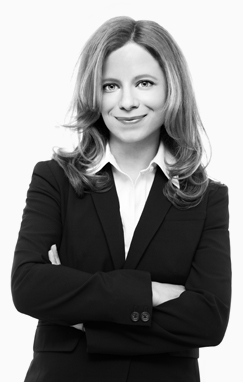 contact information
P (212) 705 4833
F (347) 438 2133
cdecter@fkks.com

Download vCard
areas of expertise
Looking for additional information?
Find out what else we do at Frankfurt Kurnit. And how we can help.
Caren Decter is counsel to the Litigation Group, focusing on commercial dispute resolution, white collar defense and intellectual property.
She represents clients in all phases of the pre-litigation and litigation process in criminal and civil matters pending in state and federal courts around the country. Ms. Decter has extensive experience advising businesses and individuals regarding complex disputes involving white collar crime, fraud, breach of contract, the FCPA, legal ethics and professional responsibility, copyrights, trademark and false advertising. She has also represented clients in mediations nationwide. Representative matters include:
Current representation of Francis Canellas in a criminal case involving Dewey & LeBoeuf

Current representation of Casper Sleep, Inc. in false advertising litigation
Current pro bono representation of a Nepali woman seeking asylum
Represented filmmaker Terrence Malick in litigation over documentary film rights
Prior to joining Frankfurt Kurnit, Ms. Decter was an associate with Willkie Farr & Gallagher LLP, where she represented clients in complex commercial litigations. She clerked for the Honorable Colleen McMahon of the United States District Court for the Southern District of New York. Ms. Decter also worked as Deputy Voter Protection Coordinator for the North Carolina Democratic Party.
Ms. Decter is the co-chair of the New York County Lawyers' Association's Federal Courts Committee and a member of the New York City Bar Association's White Collar Crime Committee.
She is admitted to practice in New York state courts and federal courts in the Southern and Eastern Districts of New York.
awards & recognition
2016 New York-area "Rising Star" by Super Lawyers magazine
education
Washington University in St. Louis (BA, summa cum laude)
University of California, Berkeley School of Law (JD)
Articles Editor of the California Law Review
Upcoming Speaking Engagements
Past Speaking Engagements
news & press
State of Washington v. Donald J. Trump, No. 17-35105 (9th Cir.)
We filed a friend-of-the-court brief on behalf of our client, the Anti-Defamation League, in support of Washington and Minnesota's challenge to President Trump's Executive Order titled "Protecting the Nation from Foreign Terrorist Entry into the United States." You can read our brief here.
Forfeiture and Restitution: Ships Passing in the Night?
The New York Law Journal published Brian Maas, Caren Decter and Andrew Ungberg's essay about the disconnect between the government's forfeiture powers and a victim's right to restitution. View Article
NY Court Expands Protections for Employers to Safeguard Proprietary Information
Yesterday a New York State appeals court reinstated the conviction of a former Goldman Sachs computer programmer under New York's unlawful use of secret scientific material statute. In doing so, the court gave a twenty-first century voice to a statute that was written in the age of blueprints and photocopiers. Read more.
Thirty-nine Frankfurt Kurnit Attorneys Named "Super Lawyers" for 2016
Super Lawyers listed thirty-nine Frankfurt Kurnit attorneys in its 2016 edition. Read more.
Frankfurt Kurnit Promotes Caren Decter and Hayden Goldblatt to Counsel
Frankfurt Kurnit Klein & Selz, PC has elected Caren Decter and Hayden Goldblatt as counsel effective January 1st, 2016. Read more.
Thirty-seven Frankfurt Kurnit Attorneys Named "Super Lawyers" for 2015
Super Lawyers listed thirty-eight Frankfurt Kurnit attorneys in its 2015 edition. Read more.
A Spirit of "Cooperation": What You Need to Know About the DOJ's New Enforcement Policies
On Wednesday the U.S. Department of Justice (DOJ) issued a memorandum outlining new policies and procedures for United States Attorneys in corporate investigations (the "Memo"). Read more.
Art Industry Clients Get a Big Win
The Frankfurt Kurnit Litigation team registered a big win for clients David Segal and Mohamed Serry, two New York-based art and antiques dealers. Read more.
Ex-Dewey Partner Can't Sue Barclays In Federal Court
Law360 listed Ronald Minkoff and Caren Decter as counsel in the matter of McMillan v. Barclays Bank PLC.
New FCPA Guidance for US Companies Doing Business Overseas
The Foreign Corrupt Practices Act ("FCPA") was enacted by Congress in 1977 in response to "revelations of widespread global corruption", including allegations that numerous U.S. companies had paid hundreds of millions of dollars to bribe foreign government officials to obtain or retain overseas business. The FCPA includes substantial criminal penalties for both businesses and individuals found to have made prohibited payments, and also gives both the Department of Justice and the Securities and Exchange Commission the authority to pursue civil enforcement actions. Read more.
California Court Finds California Resale Royalties Act Unconstitutional
Ipfrontline featured Caren Lerner's article about how the California Resale Royalties act violated the dormant Commerce Clause of the Constitution. View Article
Court Clears Use of YouTube-famous "Flying Rabbi" in Humor Sketch
The use of someone without permission in entertainment can trigger a lawsuit for "commercial appropriation of likeness." And so it was recently when "Jimmy Kimmel Live" created a video mocking a 2010 "business meeting" between basketball star LeBron James and a rabbi. Read more.