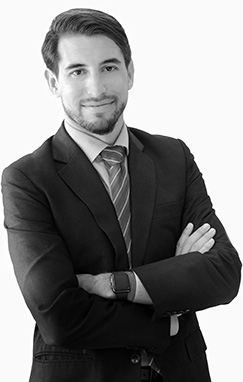 contact information
P (310) 579 9616
dgoldberg@fkks.com

Download vCard
areas of expertise
Looking for additional information?
Find out what else we do at Frankfurt Kurnit. And how we can help.
Daniel M. Goldberg is an associate in the Privacy & Data Security Group, where he focuses on digital media, advertising, and technology work.
Mr. Goldberg has wide-ranging experience in digital media, advertising, and technology. He structures and negotiates complex agreements involving the collection, use, storage, and monetization of confidential data. He works with in-house counsel, engineers, and business teams to develop and implement programs, policies, and procedures for complying with applicable laws and best practices. He also counsels clients facing data security breaches and defends against allegations that they mishandled sensitive customer or employee data.
Many of Mr. Goldberg's matters involve bleeding-edge issues. He advises on legal concerns relating to mobile apps, smart home devices, and wearables, and works with brands and developers to integrate their services into chatbots and voice activated platforms. He counsels advertisers, publishers, and technology providers in the Ad Tech ecosystem, and deals with the potential implications of data analytics, programmatic, video content, children's content, profiling, and interest-based advertising. He represents video game publishers, developers, and platform providers, and addresses concerns relating to user-generated content, game server data, augmented reality, and virtual reality. He also helps organizations prepare for the forthcoming European General Data Protection Regulation (GDPR) and apply for certification under EU-US Privacy Shield or enter into model contracts to allow for international data transfer.
Mr. Goldberg is a frequent speaker on chatbots, entrepreneurship, and other digital media matters, and has participated in Social Media Week and guest lectured at the University of Southern California. He is also a contributor to the Firm's Focus on the Data privacy and data security blog, and has written articles published by LA Lawyer Magazine, Computer Law Reporter, and ISAA Journal. He is certified as an Information Privacy Professional (CIPP/US) and serves in leadership positions for several professional organizations, including the Beverly Hills Bar Association.
Prior to joining Frankfurt Kurnit, Mr. Goldberg was an associate at BakerHostetler. He also helped launch a technology service, which was acquired by a multi-national company and has given him an insider's perspective on the technology sector and the importance of cost-efficient representation. He is admitted to practice in California.
education
University of California (BA, cum laude, 2008)
University of Southern California School of Law (JD, 2011)
Certificate in Entertainment Law

Scholarship Recipient

Member of the Southern California Review of Law and Social Justice Journal

Interned at BermanBraun and Universal Music Group
Upcoming Speaking Engagements
Past Speaking Engagements
news & press
The Association of Corporate Counsel - Winter 2017 Newsletter
The Association of Corporate Counsel published Tanya Forsheit, S. Gregory Boyd, and Daniel Goldberg's alert, Privacy Shield: Year One Updates You Need To Know, in the Focus on the New York City Chapter – Winter 2017 Newsletter. View Article
Google and Facebook: EU's Draft ePrivacy Regulation Passes Committee and Parliament Vote
The Capitol Forum quoted Tanya Forsheit and Daniel Goldberg's white paper on "The Impact of the ePrivacy Regulation on Facebook and Google" in their most recent newsletter here.
Privacy Shield: Year One Updates You Need To Know
This month we're celebrating Privacy Shield's first birthday with an update on everything Privacy Shield. There have been a number of developments on the Privacy Shield-front that companies certified or seeking self-certification under Privacy Shield need to know. Read more.
USC's Alumni Entrepreneurs Network Offers Support and Mentors
Daniel M. Goldberg is mentioned in USC's Trojan Family magazine article about being one of the founding committee members and membership chair of USC's Alumni Association's Alumni Entrepreneurs Network (AEN). View Article
Class Action Lawsuits Over Alleged COPPA Violations Reinforce Importance of Compliance
Earlier this month, three class action lawsuits were filed against companies for alleged violations of the Children's Online Privacy Protection Act ("COPPA"). Read more.
Data for Sale . . . at a Price
GALA Gazette publishes Daniel Goldberg's blog post, "Data for Sale . . . at a Price - FTC Imposes $104 Million Judgment against Company over Alleged Unlawful Sharing of Consumers' Sensitive Information". View Article
Start Your Engines: We Have to Deal With GDPR, What Now?
Back in January, we posted about the circumstances in which your company, even if based in the US, must comply with the EU General Data Protection Regulation (GDPR), taking effect in May 2018. Here we will provide a high level checklist to help you start down the path of GDPR readiness. Read more.
Tanya Forsheit and Daniel Goldberg in the ISSA Journal April 2017
Tanya Forsheit and Daniel Goldberg's article, "Every Move You Make, I'll Be Watching You Watching Me Watching You" is featured in the April 2017 edition of the Information Systems Security Association Journal. View Article
New Privacy and Data Security Blog
Looking for an easy way to keep up with the rapid-fire changes in Privacy and Data Security law? Introducing Focus on the Data — Frankfurt Kurnit's weekly insights and practical guidance on privacy and data security issues. Read more.
Copyright Infringement: Get Ready for New DMCA Agent Designation Rules
Out with the old, in with the new. That's the latest slogan of the Copyright Office which, on December 1, 2016, finally brings its nearly 20-year old system for designating Digital Millennium Copyright Act ("DMCA") agents online. Read more.
Latest on the FTC Data Security Front
FTC Issues Guide on How to Respond to a Data Breach, and Eleventh Circuit Questions the FTC's Interpretation of Its Section 5 Authority But Does NOT Alter the Unfairness Standard in Data Security Matters. Read more.